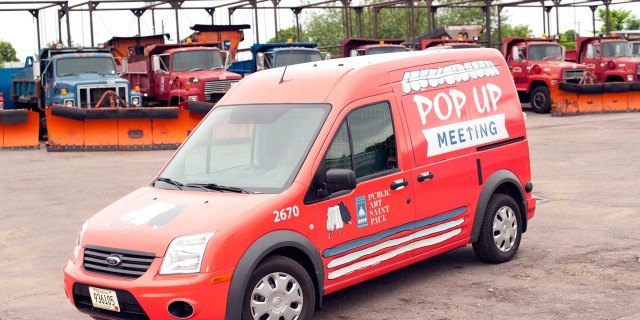 Imagine getting a free ice pop from a Cheerfully red truck whose driver is an artist and a representative of the city. She is driving around to various neighborhoods, wanting to know what people think and hope for their community.
That's one of many examples of using arts and culture in community planning shared at the recent Building Creative Communities: Arts & Planning forum/Tour of Downtown Wakefield. 
The Agenda included a talk on Incorporating arts into downtown planning, a preview of Metropolitan Area Planning Council (MAPC's) new Arts and Culture Planning Toolkit, and a walking tour and update of a potential arts incubator project in Wakefield, the Albion Culture Exchange.
The meeting took place in Wakefield where a movement is underfoot to make Wakefield an arts destination. There are efforts to help arts and culture organizations and individuals tap into the base of economic activities, to help them be successsful. Businesses like Kidcasso, "an art studio designed for students from ages 6 months-18 years to study, explore, and create original works of art." that has a thriving store-front business offers hope that other artists and creative businesses can be profitable.
Why consider arts and culture when planning in a town or city?
Arts and culture provides opportunities to socialize, learn and play
Arts and culture offers experiences that help people engage with elements past, present, and future
Arts and culture gives communities unique opportunities to understand and interact with the built and natural environment
How to consider arts and culture in community planning?
Use The Mass Creative Community Arts and Culture Planning Tool Kit
Jennifer Sien Erickson presented a preview of a toolkit for Massachusetts planners. It is just about ready to roll out. This will be web-based resource for anyone involved in community planning. It is substantiated by research, includes case studies, and is available to any one for free.
This Toolkit is a resource for planners and other government staff who are interested in innovating their planning and community development work through projects and partnerships that engage arts, culture, and the creative community.

The Toolkit presents a menu of strategies grounded in case studies of real projects that are exemplary of how arts and culture can be an effective component of planning, community development, land use, housing, transportation, economic development, public health, and public safety projects and initiatives.

Content is grouped under five categories. Read more about each section of content on the Contents by Section pages and use the vertical navigation menu to browse by topic.

art and planning

art and infrastructure

art and zoning and permitting

cultural economic development

arts funding

Why an arts toolkit for planners?

Urban planners have immense influence in shaping the built environment through policy and planning. Through the development and implementation of plans and policies, planners help guide the development of vibrant and healthy places and communities.

Arts and culture is an essential element of what makes places and communities healthy, connected, and vibrant. Arts and culture enriches lives by providing opportunities for people from different walks of life to socialize, learn, and play; providing experiences that help people engage with elements in the past, present, and future; and creating unique, exciting opportunities to understand and interact with the built and natural environment and the places where they live, work, study, and play.

This Toolkit is a work in progress.
Consider Case Studies as Inspiration and Guidance
Jennifer Sien Erickson, shared some case studies that showcase excellence in aspects of incorporation of arts and culture in the planning process. These case studies are also part of what has informed this toolkit.
Use the Main Streets Methodology
The refreshed Main Street Approach (see an overview of the refresh process here) is a common-sense, strategy driven framework that guides community based revitalization efforts. Building off three-decades of success, this updated model harnesses the social, economic, physical, and cultural assets that set a place apart, and ultimately leads to tangible outcomes that benefit the entire community.

Main Street-style transformation is a combination of art and science: communities first need to learn about the local economy, its primary drivers, and its regional context (the science), but they also need to convey that special sense of place through storytelling, preserving the older and historic structures that set it apart, broad and inclusive civic engagement, and marketing (the art). To support this powerful network, the National Main Street Center has a revitalization framework—the Main Street Approach—that helps communities leverage both the art and science of downtown revitalization to create a better quality of life for all.
Mainstreets approach has helped a number of communities revitalize the Main street commercial zones with a clear and practical plan.
Consider Cultural District Designation and Process
Among other grant programs, the Massachusetts Cultural Council offers the Cultural District Designation as a possibility for Massachusetts communities with a small walkable area that offers numerous cultural spaces and activities within that area. The process is long and requires thought and planning. For the right community, this designation can help to revitalize a community – concentrating arts into one vicinity and being able to market it as an attracting feature of the city or town. The first cultural district was established in Natick. Each of the 34 districts have their own flavor. Cultural Districts are eligible for $5,000 in grant funds annually.
This information came from a meeting sponsored by North Suburban Planning Council http://www.mapc.org/nspc  & Metropolitan Area Planning Council.  http://www.mapc.org

Save
Save
Save
Save
Save
Save
Save
Save
Save
Save
Save
Save
Save
Save
Save